FINAL RELEASE OF PHASE ONE LOTS AVAILABLE NOW
Premier lake view, country estate living.
Build your custom, lake view home on a large lot in the quiet of Kilworth's countryside, adjacent to London, Ontario.
Surround yourself in nature
Customize a home that captures lake views. It's the perfect natural setting for your new private retreat. The picturesque communities of EdgeWater Estates offer more than 46 acres of open space and give you access to walking trails throughout the adjacent provincial park.
WAKE UP TO LAKE VIEWS EVERY DAY.
EdgeWater offers a residential enclave boasting large lots with views of a 10-acre lake, making EdgeWater a one-of-a-kind, nature-inspired family home retreat.

Country Charm
Make outdoor activities a new family tradition. Enjoy a country lifestyle with water views, natural ravines, and access to parks and walking trails.

City Convenience
EdgeWater Estates is located in the town of Kilworth, adjacent to London, Ontario. Reconnect with nature while remaining connected to everything the city has to offer.

Beautifully Sustainable
Build a legacy with EdgeWater's custom home builders. They are selected for their ability to blend environmentally sensitive design with distinctive home architecture.
Make The Luxury of Space™ part of your everyday life.
Secure a stunning lakeside lot for your custom dream home. Wake up each morning to panoramic vistas and bountiful nature at your doorstep.
Your exclusive address in EdgeWater awaits. With lot frontages ranging from 60 to 100+ feet with views of a 10-acre lake, you'll enjoy the utmost in privacy and serenity while being part of one of the most desirable communities in Ontario.
The EdgeWater Concierge Team
Choose your lake view lot in EdgeWater and connect with one of EdgeWater's exclusive custom builders from wherever you are with the help of the EdgeWater Estates (EW) Concierge Team.
Simple, Seamless, Secure.
Connect with the EW Concierge Team to arrange:
* Virtual or in-person tours 
* Remote video conference or in-person appointments with a builder
* Digitally seamless real estate transactions
With your lot secured, you can budget and design your new home, giving your family the custom home retreat they deserve.
TO GET STARTED

Upscale country living with city amenities
Edgewater Estates offers country charm and a sense of community. Enjoy locally inspired dining, take in a round of golf at one of four prestigious Kilworth golf courses, hike or bike along the trails of the Komoka-Kilworth Provincial Park or stay active indoors at Kilworth's YMCA recreation centre. And, if you're looking for more, London's amenities including world-class restaurants, shopping, theatre, Western University, Fanshawe College, and hospitals, are a short drive away.

Your legacy Space to be yourself
EdgeWater Estates is designed with over 46 acres of trails and wide-open green space. A parkland development site like EdgeWater Estates only comes along once in a generation.

Stay connected from home
Work from your custom home office while being seamlessly connected to your team. EdgeWater Estates has fibre-optic Internet service and is situated three minutes from HWYS 401 and 402.

Low municipal taxes and carrying costs
Get the most out of every dollar. At EdgeWater Estates, you have some of the finest amenities at your fingertips at a fraction of the municipal taxes and carrying costs of the City of London.
Life in Kilworth, Ontario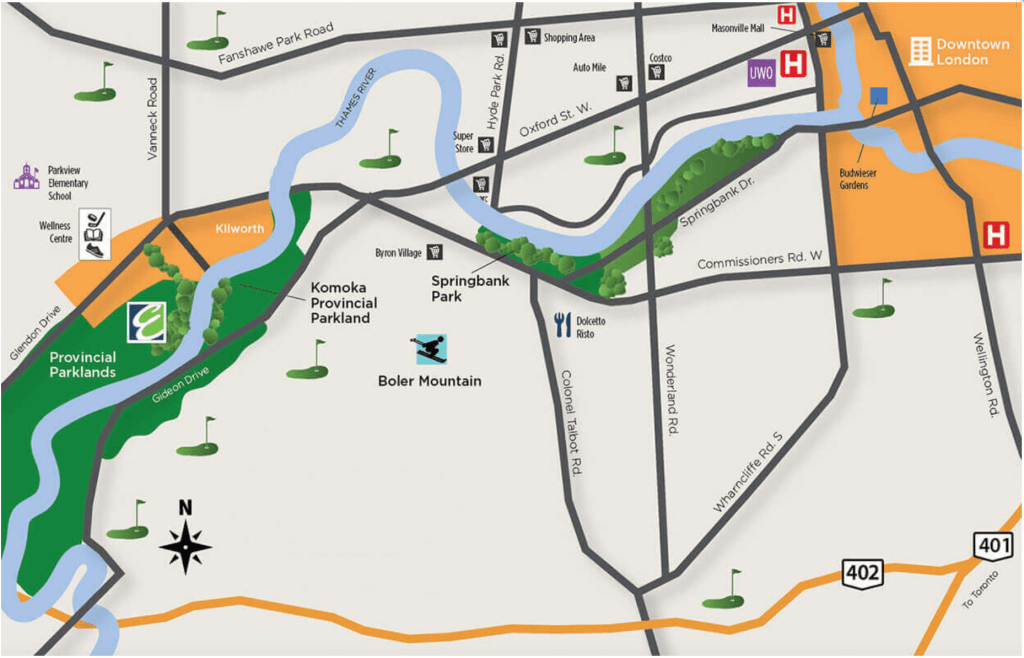 The town of Kilworth is moments from London, Ontario, where Kilworth residents enjoy countless outdoor activities. They can take in a round of golf at one of the four Kilworth golf courses or go hiking or mountain biking on the Komoka-Kilworth Provincial Park trails. Residents can also be active indoors at the 4,000 square foot Kilworth YMCA recreation complex that includes a fitness centre, gymnasiums, and hockey arenas. Kilworth is set in the countryside but offers quick access to Highways 401 and 402 for your travels to Toronto, Port Huron, and Detroit.
Estimated drive times to Kilworth's amenities
* 1 minute to the YMCA Wellness Recreational Complex
* 5 minutes to Hyde Park's shopping and restaurants
Estimated drive times from Kilworth to London's amenities
* 12 minutes to Western University
* 12 minutes to University Hospital
* 12 minutes to Masonville Mall
* 14 minutes to London Health Sciences
* 16 minutes to St. Joseph's Healthcare
* 16 minutes to downtown and Budweiser Gardens
South Winds Development Company
SUSTAINABLE LAND DEVELOPMENT FOR GENERATIONS
Environmental Stewardship
About South Winds Development and EdgeWater Estates
South Winds Development is focused on sustainable land development and environmental stewardship. 
Our goal is to set the bar for nature preservation, and we create neighbourhoods with a minimum of 30% greenspace to provide you and your family with a healthy lifestyle.
EdgeWater Estates is our latest new home development in Kilworth, Ontario, adjacent to London, Ontario, where you'll enjoy expansive natural terrain, set along the Thames River, with direct access to Provincial Parklands.
Watch us as we grow, build your dream home, and stay connected.